By Jane Nickodem
Audio Books
If you are interested in sharing a good children's book, such as "Harvesting Hope: The Story of Cesar Chavez," but do not have access to the book itself, You Tube has a wide selection of videos to help.
The video will show the pages of the book and as the pages turn, the narrator will read each page aloud. Just search in Google for the name of the book. If the book is available, the video of its being read aloud should come up first or early among the selections, showing how many minutes the reading will take. Sometimes there are different versions, longer or shorter. Staff of Peacemakers Camp used this successfully with several books last July.
Try other titles, such as "The Story of Ruby Bridges" or "Mama Miti," two more of our "World Faces of Peace." This technique can even be used long distance (missing your grandkids or nieces and nephews?) using Zoom; just have the Google screen up behind your Zoom projection and use "Share Screen."
---
New Children Books
Reviewed by Jane Nickodem
Watermelons, sweet and juicy. Tomatoes, red and tasty. Apples, tart and crispy.
Harvest time is here! Seems like only yesterday that the sowing and planting was done, followed by endless days of watering and weeding. Now the fruits of the gardener's labor are ready for the reaping. The journey of a seed from spring sowing to late summer harvesting is a miraculous one, deserving of a pause for wonder and gratitude.
Gardening and harvesting are popular subjects for children's literature, and it is especially important for kids to know not just the life cycle of their favorite fruits and vegetables, but how food makes the journey from field to their dinner plate.
For Little Friends, two books will be reviewed–one based on African American folklore, and the other, a whimsical primer on gardening, harvesting, and feasting.
Junior Friends will be introduced to Cesar Chavez and Dolores Huerta who founded and led La Causa for improving farmworkers' working conditions and pay.
Finally, for Young Friends, a chapter book based one family's story as migrant farmworkers living and working in California will be reviewed.
—————————————————————————————————————–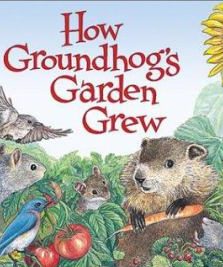 How Groundhog's Garden Grew by Lynne Cherry, is a charming and informative narrative detailing how to plant, grow, and harvest a whole host of familiar plants. Illustrations of seeds, seedlings, pollinators and pests abound. Let groundhog and squirrel guide your planning for next summer's garden patch! Ages 4-7
In Tops and Bottoms, Janet Stevens retells and illustrates an African American folktale in which clever Hare deprives lazy Bear of the best of the harvest. Lively and informative, this book is a real delight! Ages 4-7
Kathleen Krull's Harvesting Hope: The Story of Cesar Chavez is a well-written and sensitive biography of one of the founding members of La Causa. The beautiful illustrations by Yuyi Morales enhance the inspiring story of a humble man who lifted up the lives of countless farmworkers. Ages 8-12
Side by Side/Lado A Lado: The Story of Dolores Huerta and Cesar Chavez
by Monica Brown. This bilingual biography of the cofounders of the United Farm Workers union illustrates the important work of these two human rights activists. Huerta and Chavez were instrumental in the passage of the 1986 immigration act which helped secure American citizenship for over one million immigrants. Ages 8-12
Esperanza Rising by Pam Muñoz Ryan, is loosely based on her family's heart-breaking but inspiring story of one family's unspeakable loss, tremendous courage, and enduring love. It is no accident that Esperanza's name means "hope". The Author's Notes gives an eye-opening personal and historical perspective on the maltreatment of farmworkers in America. Ages 9-12