By Jane Nickodem
Skills for coping in our topsy-turvy world are important as kids and grown-ups struggle to regain a sense of equilibrium. Recognizing our fears, frustrations, and anger is important and it is essential to find peaceful ways to express these difficult emotions. Reading, movement, and spending time in nature are simple calming strategies that we may gravitate toward. Read on to discover some resources that may resonate with you and your family.
Books for the Younger Child
Breathing, Mindfulness, and Compassion
Alphabreaths: The ABC's of Mindful Breathing by Christopher Willard, et. al. This book was recommended by a yogini who also teaches mindfulness to adults and children. Grown-ups and kids can use this book together without formal training. It's good to remember that mindful breathing is usually a gentle twist on normal breathing. (A good reminder is to avoid the exaggerated shoulder-raising breathing which children sometimes do when first introduced to mindful breathing. Teaching children to place their hand on their diaphragm will help.) This book has a 5-star rating and is available in hardcover (H) and Kindle (K).
To extend this book, have your child make a small card for each letter of the alphabet to keep in a jar. (Scrabble tiles could also be used.) Then, at various times of the day or in difficult moments, the child can fish out a card or tile, locate the corresponding breath in the book and act it out. Or your child can create a new breath using that letter. After acting it out, children could draw a picture of themselves demonstrating the new breath.
B Is for Breath: The ABCs of Coping with Fussy and Frustrating Feelings by Melissa Munro Boyd. I have not been able to thoroughly peruse this book; I merely examined a sample on amazon. It seemed concrete and practical and I liked the multi-cultural depiction of children. I think it will appeal to the younger child and their parents. It has a 4.5 star rating and is available in paperback (P) and (H) and (K). The same activities mentioned above will also apply to this book.
A Handful of Quiet: Happiness in Four Pebbles by Thich Nhat Hanh is a beautiful book of simple, calming meditations for children, who are gently directed to use drawing as a meditative activity. (Age 4+)
I Am Love: A Book of Compassion by Susan Verde. (All ages)
This lovely book is part of Susan Verde's series which includes I Am Peace: A Book of Mindfulness, I Am Human: A Book of Empathy, and I Am Yoga. I Am Love explores a loving and tender response in the face of the storms of life and asks the Friendly question: "What can I do to help let the light back in?"
Worrying and Anxiety
I have not been able to read cover-to-cover either of the following books on anxiety and worry. Nonetheless, they may be of interest and benefit.
A Little Spot of Anxiety: A Story about Calming Your Worries is one of a series of books on feelings by Diane Albers. Rated 5 stars and available in (P) (H) and (K).
Worries Are Not Forever by Elizabeth Verdick. Available in board book (BB) (P) (K).
This 5-star book is for ages 4-7. The artwork is simple and pleasing with inclusive illustrations. The back cover of the board book has suggestions for parents. I believe that we have this book in our collection. For this review, I perused sample pages on the internet.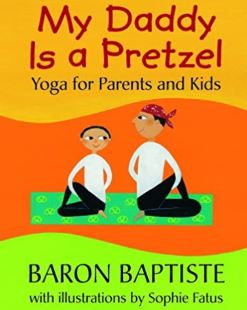 Movement
I Am Yoga (H) (K) Another 5 star-rated book by Susan Verde. This book was recommended to me by a yoga teacher.
My Daddy Is a Pretzel by Baron Baptiste and Sophie Fatus. Interesting illustrations encourage children and their grown-ups to "yoga" together. This book is part of our regular collection.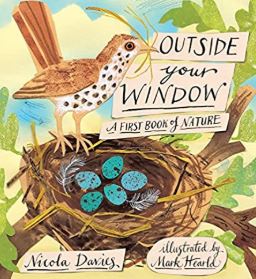 Nature
Outside Your Window: A First Book of Nature by Nicola Davies. (H) 4.5 stars. This is a truly lovely poetry book organized by season with poems and nature concepts and activities artfully woven together. Riotously vivid illustrations bloom throughout. Although the title suggests otherwise, this book is geared toward first and second graders.
Origami and Poetry: Inspired by Nature by Nosy Crow. While I have not been able to actually peruse this book, I am familiar with Sing a Song of Seasons (see below) and trust that this book also a winner. Fifty origami papers are included and as well as directions for making 13 folded paper figures. Instructions for accessing a dedicated on-line tutorial is also included. (P)
Sing a Song of Seasons: A Nature Poem for Each Day of the Year by Nosy Crow, et. al. A joyful collection of 365 nature poems delightfully illustrated. Five-star rating. (H)
Tiny, Perfect Things by M.H. Clark, is an exceptional book to read before or after a walk in urban or natural setting, and encourages children and their grown-ups to see the beauty in their surroundings. This book is in our collection. (Ages 2-7) (H)
How to Access These Books
For curbside pick-up at local libraries:
Shorewood Library: For phone orders and pick-up, call: 414-847-2670. To order and schedule pick-up times online: shorewoodlibrary.org
Whitefish Bay Library: Curb-side pick-up. Limit of five books per card. Call 414-964-4380 or visit website: wfblibrary.org
Since inter-library deliveries have been suspended, only books noted "check shelves" can be borrowed. The East Branch on North Avenue is not lending books at this time. For updated information, please visit: www.mpl.org
To purchase from Boswell Books:
The preferred method for purchasing or ordering books from Boswell's is to visit boswellbooks.com Books can be picked up, delivered, or shipped. For phone orders and other information, call 414-332-1181.